JOHANNESBURG AIRPORT (JNB) INFORMATION
Origin
Airline
Flight no.
Scheduled
Est./Actual
Status
No flight arrivals were found at Johannesburg Airport.
Destination
Airline
Flight no.
Scheduled
Est./Actual
Status
No flight departures were found at Johannesburg Airport.
Car Hire at Johannesburg Airport
UNBEATABLE VALUE CAR RENTAL
Free Amendments | Free Cancellations | No Card Fees




Johannesburg Airport - All Information on Johannesburg Airport (JNB) Johannesburg Airport
1 Jones Rd, Kempton Park, Johannesburg, 1632, South Africa
phone +27 11 921 6262
phone+27 21 935 3737 (Lost + Found)
emailcustomercare@airports.co.za
emailcustomercare@airports.co.za (Lost+Found)
call_end+27 (0)11 921 6422 (fax)
Facts and History about Johannesburg Airport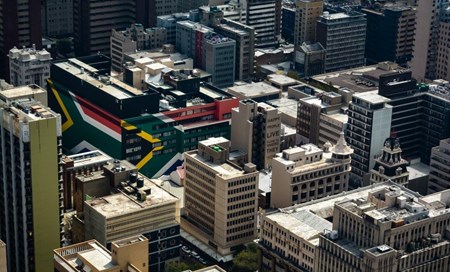 O.R Tambo International Airport is located in South Africa's largest city, known as Johannesburg. The airport is therefore the primary airport for all international and domestic flights to and from South Africa. Before the name O.R Tambo International was presented for the airport, it was Jan Smuts International Airport, after one of South Africa's statesmen, as well as Johannesburg International Airport. However, the name of O.R Tambo International is now the official name of the airport, and is unlikely to change in the near future. Johannesburg's airport is located nearby Alberton, Brakpan Germiston and Kempton Park, and has the official airport code of JNB, and the ICAO code of FAJS. O.R Tambo Airport is the largest airport in Africa, handling over fifteen million passengers per annum.
The name Jan Smuts International Airport was first changed in 1994, and on 27 October 2006, Johannesburg's Airport was officially named after the former President of the African National Congress, Oliver Reginald Tambo, who was fondly known by his peers as O.R. The airport has been standing since 1952, and replaced the international airport of Palmietfontein, which had been handling European flights since 1945. O.R Tambo International Airport was used as a testing ground for the Concorde in the 1970's, but during the 1980's, many airlines had to stop flying to the airport due to the United Nation sanctions imposed against South Africa, during the struggle against apartheid. This forced the airline companies still in operation to avoid flying over most of the African continent, and required specially designed aircraft such as the Boeing 747-SP. However, once the apartheid war was ended, and South Africa won its fight for freedom, the sanctions were lifted, and Johannesburg's airport successfully took its position on the list of 100 busiest airports in the world, and as the busiest airport in Africa.
Not only did O.R Tambo International Airport receive its new name in 2006, but it also became the first airport in Africa to receive the large Airbus A380. To accommodate these larger airplanes, the airport is equipped with two long runways, measuring 4,418 meters and 3,400 meters. Its runways are even longer than most other international airports due to its unique position almost 1,700 meters above mean sea level, as the low air pressure affects the performance of aircraft. An aircraft cannot take off from O.R Tambo Airport with a full load of fuel, passengers and cargo, and needs a longer stretch of runway to reach full take-off velocity. Flights to Washington D.C. therefore stop for re-fueling in Dakar International Airport. However, the return trip back to Johannesburg from Washington is a non-stop 15-hour flight, and is one of the longest commercial non-stop flights in the world. O.R Tambo Airport is also one of only three airports in the world from where direct, non-stop flights are made to all six inhabited continents.
Arrivals and Departures at Johannesburg Airport
O.R Tambo International Airport is a hub for the airline carriers of 1Time, Airlink, Interair South Africa, South African Airways, South African Express, Mango and Kulula.com. These airline companies fly to many regional cities, such as Cape Town, Durban, Port Elizabeth, George and East London, and to many international destinations as well, such as London-Heathrow, Mauritius, Washington-Dulles, Hong Kong, New York-JFK, Munich and Frankfurt. Some other destinations served by South African Airways include Harare, Luanda, Lusaka, Nairobi, Victoria Falls, Windhoek, Maputo and Dar es Salaam. British Airways, KLM, Air Mauritius, Lufthansa, Qatar Airways, Virgin Atlantic Airways and Air Botswana are other airline carriers in operation from O.R Tambo Airport. Johannesburg's airport is also important in terms of cargo traffic, and is served by the companies of Atlas Air, Cargolux, El Al Cargo, Emirates SkyCargo, FedEx Express, KLM Cargo, Lufthansa Cargo, Safair, Saudi Arabian Airlines, Singapore Airlines Cargo and Martinair Cargo for cargo transport purposes.
O.R Tambo International Airport was significantly upgraded and expanded in anticipation of the 2010 FIFA Soccer World Cup, for which South Africa received hosting rights. At a cost of R2 billion, the airport received a new Central Terminal building, designed by Osmond Lange Architects and Planners, which now handle all check-in procedures for international and domestic flights. The international terminal was expanded to include a new international pier in order to provide additional facilities to handle the new Airbus A380, and an large multi-storey parkade at a cost of R470 million was constructed opposite the Central Terminal. Terminal A has also been upgraded. O.R Tambo Airport consists of six terminal buildings, with three main areas, which include the international and domestic terminals, and the transit terminals. However, the transit terminal has mostly been eliminated for the construction of the new Central Terminal.
International passengers are handled from Terminal A1 and A2, and the Central Terminal is now referred to as Terminal A3. The new international pier has nine airside contact stands, and four of these are dedicated to the Airbus A380 aircraft. Future expansion for O.R Tambo Airport includes a second terminal between the two runways, that is due for completion by the year 2012. This terminal will have is own area of a variety of facilities, and its own international and domestic check-in facilities. The airport is currently able to handle 28 million passengers, and served approximately 21 million people in 2018.
The headquarters of South African Airways is located in Airways Park, which is another building on the airport site. This building was completed and in use by March 1997. The airport buildings are reasonably easy to access from Johannesburg's road network. The airport is situated on the R24 Airport Freeway, which is connected to the N3 Eastern Bypass and the R21 highway. The R24 actually passes through the airport site, separating the terminals from the parking areas.
O.R Tambo International Airport is owned and managed by the newly formed South African company of ACSA, or the Airports Company South Africa, and houses a wide variety of useful facilities, including banks, forex services, the Premier Conference Center, a medical clinic and many restaurants and shopping outlets. The information desk of O.R Tambo Airport can be contacted at +27 11 921 6262, or customers can email customercare@airports.co.za. The Airports Company South Africa official website is found at http://www.airports.co.za/airports/or-tambo-international.
The Airport IATA 3 Letter code for Johannesburg Airport is JNB. Johannesburg Airport is also identified as Oliver Reginald Tambo International The GPS location for Johannesburg Airport is – -26.13917, 28.24611 which you can enter into your Smartphone/I phone to enable you to find your way to and from Oliver Reginald Tambo International Airport.
When arriving in Johannesburg Airport, there are the usual airport transfer options, or you may wish to hire a car, most of the reputable companies are situates in the Arrivals hall or close by. You will need to present a valid driving licence and credit card if you intend to hire a vehicle at Johannesburg airport. With so much choice of car rental at Johannesburg airport it may be wise to book online before you arrive as there is limited choice of vehicles at certain times of the year.
Hotels near Johannesburg Airport
There are a number of hotels to suit all budgets and requirements at or near Johannesburg Airport.
Parking at Johannesburg Airport
See options for parking services at Johannesburg Airport.
Additional Services and Amenities at Johannesburg Airport
At Johannesburg Airport you will find the usual array of bars and restaurants, airport lounges and shops.
Things to do in Johannesburg
There are a number of activities to suit all ages and interests in the region - see a selection of tourist activities in Johannesburg, South Africa.
Services at Johannesburg Airport
Useful Information about Johannesburg Airport