Johannesburg Airport Departures (JNB)
Not all flights may be showing. If not available use search above to find your flight by airline, airport or flight number.
Destination
Airline
Flight no.
Scheduled
Est./Actual
Status
Nairobi (NBO)
Kenya Airways
KQ765 expand_more(4)
01:15
02:16
En-Route
Nairobi (NBO)
Air Austral
UU6765
01:15
02:16
En-Route
Nairobi (NBO)
Royal Air Maroc
AT9102
01:15
02:16
En-Route
Nairobi (NBO)
Saudia
SV6956
01:15
02:16
En-Route
Nairobi (NBO)
South African Airways
SA7120
01:15
02:16
En-Route
Maputo (MPM)
Astral Aviation
8V241
03:00
Unknown
Nairobi (NBO)
Astral Aviation
8V21
03:00
Unknown
Kigali (KGL)
RwandAir
WB103
03:10
03:28
En-Route
Kinshasa (FIH)
Asky Airlines
KP71 expand_more(1)
04:00
04:19
En-Route
Kinshasa (FIH)
Ethiopian Airlines
ET1016
04:00
04:19
En-Route
No flight departures were found at Johannesburg Airport.

Flight Departures at Johannesburg Airport
O.R Tambo International Airport is South Africa's largest airport, handling over 21 million passengers per annum. The airport has a capacity to handle up to 28 million passengers per year and served approximately 21 million people in 2018. O.R Tambo Airport was originally known as Jan Smuts Airport, and in later years, after the end of the apartheid era in South Africa, as Johannesburg International Airport. In 2006, the airport was re-named in honor of Oliver Reginald Tambo, a former South African National Congress President, who fought for the freedom of the country. O.R Tambo Airport has the official code of JNB, and is located approximately 19 km from the city center of Johannesburg, in Kempton Park, Gauteng. Departing passengers at the airport will find all the facilities they require.
Johannesburg airport can be easily accessed from anywhere in the city, as it lies nearby the major R24 and R21 highways. It is about a half an hours drive from the city center to the airport, following the R24, and about a 45 minute, or bit longer drive from Pretoria using the R21. The main roads in Johannesburg can be very busy, therefore always allow plenty of time for driving to the airport, especially during rush hour traffic. There are good parking facilities available at O.R Tambo Airport, with the new multi-storey car park offering 5,200 spaces, and a long-term parking area. The long-term area does however require the services of a shuttle bus in order to reach the terminal. The bus operated by Big Sky also travels between the airport's six terminal buildings.
Departing passengers have a wide choice of airline companies and destinations from which to choose at O.R Tambo Airport. The airport is a hub for South African Airways, South African Express, 1Time, Airlink, Interair South Africa, Mango and Kulula.com, and these airline companies serve regional and international destinations. Johannesburg Airport is one of only a handful of airports in the world which offer direct non-stop flights to cities in all six major continents, and the flight from Washington DC to Johannesburg is one of the longest passenger flights operated. South African Airways offers flights to London-Heathrow, New York-JFK, Munich, Frankfurt, Harare, Hong Kong, Mauritius and Nairobi, while South African Express flies to Gaborone, Walvis Bay and Windhoek, as well as to more local areas, such as Bloemfontein, Durban, East London, Kimberley and Richard's Bay. Mango and Kulula.com are popular local airlines offering flights to Cape Town, Durban and Port Elizabeth.
Other prominent airline companies at O.R Tambo International Airport include British Airways, Air Mauritius, Air Namibia, Cathay Pacific, Emirates, Jet Airways, KLM, Lufthansa, Malaysia Airlines, Qatar Airways, Singapore Airlines and Velvet Sky. Other destinations served include Maputo, Phalaborwa, Pietermaritzburg, Polokwane, Umtata, Upington, Margate, Mumbai, Amsterdam, Atlanta, Cairo and Paris Charles de Gaulle.
O.R Tambo International Airport was recently upgraded and expanded to increase its capacity for the 2010 FIFA World Cup, for which South Africa received hosting rights. A new Central Terminal was built, which is now the area of the airport which handles all check-in procedures for domestic and international flights, and a new international pier was added, which includes four stands for the larger Airbus A380 aircraft. Self check-in kiosks, known as Flighcheck, are available for passengers of certain airline carriers. Passengers should confirm with their airline company if they offer Flightcheck, and whether they accept both hold and hand luggage through the system. Flight information is available from ACSA's automated flight-information center, the ACSA information desk or by sending an SMS with your flight number to 35007. Live arrivals and departures are also available online.
The airport offers passengers world-class facilities, including the Premier Conference Center, with meeting rooms of various sizes, internet access, a medical clinic, public telephones and chapel for Muslim passengers. The conference center has three 10-seater meeting rooms, a 14-seater room and a larger seminar facility, which can accommodate up to 50 people. The conference room is the largest, seating up to 120 people. Baggage trolleys are available, as well as restrooms with baby changing facilities for parents of small children. O.R Tambo International Airport is fully accessible by disabled passengers, as there are ramps, lifts and reserved parking spaces to assist their time at the airport. If further help is required, it can be requested from the passenger's airline company, at least 48 hours in advance of the scheduled departure flight.
For those who have some time to spare at the airport before departure, there are numerous interesting shopping outlets to browse, and a large selection of bars, cafés and restaurants offering simple snacks or full-course meals. O.R Tambo Airport is also the home of the South African Airways Museum, which has some interesting items on display from the airline company's years of service. Banking and currency exchange facilities are also available in all the terminals of the airport.
Information desks at O.R Tambo International Airport can be found by departing passengers in Terminal A, in the international departures area and the international arrivals area, as well as in Terminal B, at the domestic arrivals area. The information desk can be reached at +27 11 921 6262, or further information on flight details can be obtained by calling 086 72 77 888. ACSA, or the Airports Company South Africa, offers a comprehensive website from where all information regarding O.R Tambo Airport is available, at http://www.airports.co.za/airports/or-tambo-international. ACSA is the management company of the airport.
Was your flight delayed or cancelled?
You may be eligible to receive up to 600 EUR compensation per person in your party..
Claim Now!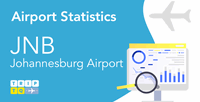 Johannesburg Airport Passenger Traffic Soars 16.85% in Q3 2023, Showing Signs of Recovery from Pandemic