Johannesburg Airport Arrivals (JNB)
Not all flights may be showing. If not available use search above to find your flight by airline, airport or flight number.
Origin
Airline
Flight no.
Scheduled
Est./Actual
Status
Kigali (KGL)
RwandAir
WB102
02:20
Scheduled
Istanbul (IST)
Turkish Airlines
TK6242
02:35
Scheduled
Addis Ababa (ADD)
Ethiopian Airlines
ET859 expand_more(5)
03:55
Scheduled
Addis Ababa (ADD)
Air India
AI7590
03:55
Scheduled
Addis Ababa (ADD)
Asky Airlines
KP1200
03:55
Scheduled
Addis Ababa (ADD)
Malaysia Airlines
MH5251
03:55
Scheduled
Addis Ababa (ADD)
South African Airways
SA7203
03:55
Scheduled
Addis Ababa (ADD)
SriLankan Airlines
UL3678
03:55
Scheduled
Lagos (LOS)
South African Airways
SA61
05:25
Scheduled
No flight arrivals were found at Johannesburg Airport.

Flight Arrivals at Johannesburg Airport
O.R Tambo International Airport is located approximately 19 km from the city center of Johannesburg, the largest inland city of the world. The airport is also the largest in South Africa, as well as the largest on the continent of Africa, and served approximately 21 million people in 2018. Johannesburg airport is found on the list of the world's largest 100 airports as well, and is a very important gateway to the Gauteng region of South Africa, as well as an important hub for airline carriers such as South African Airways, 1Time, and Kulula.com. Passengers arriving at O.R Tambo International Airport will find large terminal buildings which have recently been expanded and upgraded for the major event of the 2010 FIFA World Cup, for which South Africa received hosting rights.
The airport's current name is in honour of a former President of the South African National Congress, Oliver Reginald Tambo, who also played a very important role in ending the apartheid era in South Africa. He was fondly known as O.R, and hence the name of the airport. Previous names included Jan Smuts Airport, and Johannesburg International Airport. One of South Africa's major achievements included the hosting of the FIFA Soccer World Cup, and many of the country's airports, railway stations, bus stations and road networks were thoroughly renovated in order to prepare for the event. O.R Tambo International Airport received a new Central Terminal building, as well as a new international pier, which significantly increased the passenger capacity of the airport. Many of its other six terminal buildings were also upgraded, and a new car parking area was constructed. The Central Terminal building, named as A3, will handle the check-in procedures for international and domestic passengers.
O.R Tambo International Airport is the hub for many airline companies, and flights arrive at the airport from all over the world. The flight from Washington DC is one of the longest non-stop flights in the world, and the airport is also one of only three airports in the world that offer non-stop direct flights to all six inhabited continents. South African Airways fly between many international destinations and O.R Tambo Airport, while South African Express flies to many regional destinations. Kulula.com and Mango are another two popular local airline carriers with flights from Durban, Cape Town and Port Elizabeth. Other airline companies in operation at O.R Tambo Airport include Airlink, KLM, Cathay Pacific, Lufthansa, British Airways, Virgin Atlantic Airways and Interair South Africa.
There are six terminal buildings at the airport, which can be divided into domestic and international passenger areas. Passengers arriving at the airport will find a vast array of facilities, including banking and currency exchange services, the Premier Conference Center, pharmacies, a medical center and many retail outlets and fast-food/restaurant facilities. Baby changing facilities are found in many of the restrooms, and the airport is fully accessible for disabled passengers, or passengers with reduced mobility. There are lifts running between the various levels of the airport, and ramps providing easy exit and entry from the terminals. There are also reserved parking spaces for disabled drivers. However, passengers who require extra assistance when arriving at O.R Tambo Airport, can make enquiries with their airline company, who in turn will arrange qualified staff members to provide help with the customers and baggage collection procedures. Requests should be made at least 48 hours in advance of your departure flight.
A wide range of car hire companies can be found in the multi-storey parkade, just opposite the domestic terminal building. The companies available are mostly world-wide companies, which offer high quality vehicles at very competitive rental rates. The best way to explore South Africa is in your 'own' vehicle, as the public transport system of the country is not as extensive as those elsewhere in the world. The airport is nearby a few prominent highways, such as the R24 and R21, which leads to the major city of Pretoria, located nearby. Alternatively, arriving passengers can hire a conventional taxi at the airport for transport to any destination, or make use of one of the private shuttle bus companies available, such as Magic Bus or the Airport Link. The Baz Bus is quite popular with backpackers, and offers hop-on and hop-off services in many major cities in South Africa, and inter-city buses offering transport include Intercape and Greyhound. There is now a new rail connection from O.R Tambo International Airport to Sandton, a very popular suburb in Johannesburg.
There are a number of hotels nearby Johannesburg Airport, of which some include the Airport Sun InterContinental JNB Airport Hotel, the Holiday Inn Johannesburg International Airport Hotel, the Mercure Johannesburg Midrand and the Birchwood Executive Hotel. There are still many quality hotels found in central Johannesburg, but because this area is not considered to be the safest, these hotels are often less expensive than those in the northern suburbs. The Parktown district offers a number of homely guest houses, and are well-placed from where to explore the city. Some of the city's attractions include the Johannesburg Zoo, Gold Reef City and the Kruger National Park.
Passengers arriving at O.R Tambo International airport can find out more information from the information desks within the arrival areas of the terminals, or online, from the Airport Company South Africa's official website, at http://www.airports.co.za/airports/or-tambo-international. ACSA is the management company of 9 major airports in South Africa.
Was your flight delayed or cancelled?
You may be eligible to receive up to 600 EUR compensation per person in your party..
Claim Now!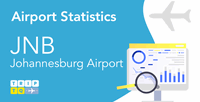 Johannesburg Airport Passenger Traffic Soars 16.85% in Q3 2023, Showing Signs of Recovery from Pandemic